Experience the magic of Darling - Where else in South Africa would you find Evita, a Voorkamerfest, and both a wild flower show and an exotic orchid show, on the same day? As you will discover even the wines of Darling have something special about them, and the fact that many highly respected wine labels outside Darling either have a vineyard here, or choose to source their fruit from our soils, is indicative of this.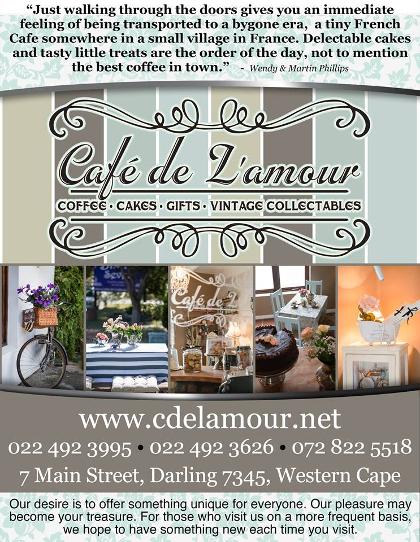 Cafe de L'amour our fabulous French Cafe in our part of the world.... the little country village of Darling, West Coast, Western Cape South Africa. Cafe de L'amour a new venture "Cafe-Gifts and Vintage Collectibles." has recently opened to the public. It promises to be the most cozy of all coffee shops in Darling. Spend tranquil moments watching passers by, lazing on the veranda, and you will feel like you have gone to a small side walk cafe in France. Our desire is to offer something unique for everyone. Our pleasure may become your treasure. For those who visit us on a more frequent basis, we hope to have something new each time you visit. http://www.cdelamour.net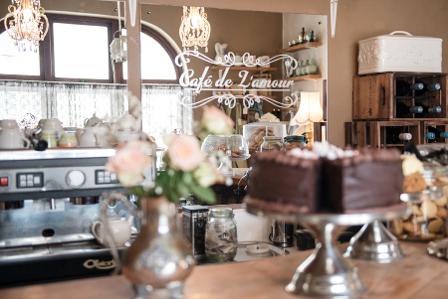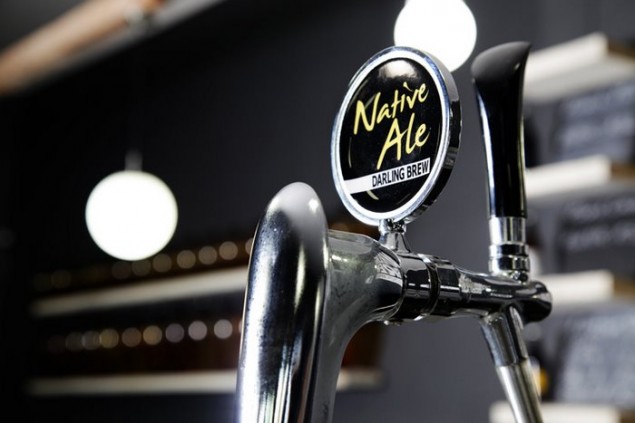 Darling Brew Slow Quarter offers you the unique experience of our beer and food pairings. This growing trend highlights the variety in beers, for a variety of occasions with a gastronomy of flavors. One could try anything from our roasted, caramel native ale paired with melon and kudu bresaola to our spicy bone crusher wit beer paired with tempura prawns in a bone crusher and sesame seed batter. Beer is no longer the poor cousin, craft breweries are changing this one delicious brew at a time. Come be part of the movement.
Website: http://www.darlingbrew.co.za
Contact: PHILIPPA WOOD | 071 901 2532 | philippa@darlingbrew.co.za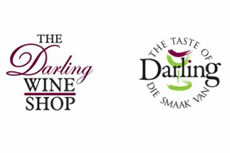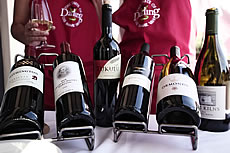 Telephone: 022 492 3971 | Charles 074 194 1711 | Website: www.darlingwine.co.za
The Darling Wine Shop
The wines of Darling are blessed with the consistency of quality due to their viticulture location and yet a diversity of style that makes them all so different. With scarcely half a dozen producers there is a lot to explore!
There is however a practical side to a visitors "route of exploration" in that in typical Darling diversity, the vineyards are located in four different directions from the centre of the town. To visit all the Vineyards in one-day is possible but not always practical, and this is what has inspired Darling négociant Charles Withington to come up with the idea of the Darling Wine Shop - a one-stop shop in the centre of Darling where one could buy virtually the entire range of any of the Darling wines, and at cellar door prices.
The Darling wine shop also provides the opportunity for the many, many visitors to Darling who come to see Evita, explore the flowers, and experience the Voorkamerfest, and who are invariably lovers of good wine and fine food, to be able to source these delights right here in the centre of the village, saving them time and travel.
The Darling wine shop also provides a host of other possibilities :
Mixed cases like the "summer stunners" with a selected white wine from the six producers, or the "winter warmers" where the same exercise is done with red wine.

An opportunity to purchase all the areas wines in different combinations.

To taste the "wine of the day".

To make use of a very efficient freight delivery system both locally and internationally to have Darling wines delivered to your doorstep.

In these days when delivery costs are expensive, to be able to have goods from different suppliers all arrived in a single consignment.
And so there we are - we urge you to come and visit us and see and experience the delights of Darling.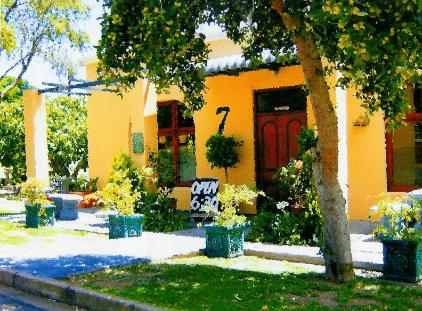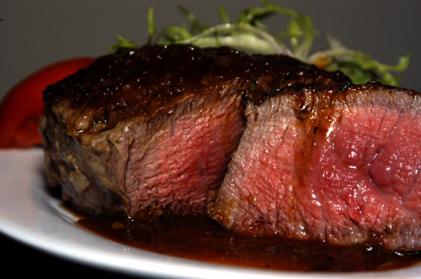 Bistro Seven is a Darling country pub & restaurant oozing rural charm and rustic character. It is run by the owners Kit and Rene Haslam, who both have a hands on approach. Our picturesque surroundings provide the perfect backdrop for savoring the hearty, seasonal pub-food on our menu in the sports bar, or an A la carte menu to choose from in the main restaurant, as well as stunning daily black board specials.
Bistro Seven also has a wonderful coffee shop which runs during the day, serves all kinds of coffee, cakes, home made breads, pastries, and light lunches.
Book a table online and enjoy a spot by our roaring log-fire in winter. Or make the best of the Darling summertime by eating alfresco in our pretty beer garden or coffee shop patio.
Delicious, healthy, affordable and fresh food for you and your family. That's what's on our menu – and we are glad you've stopped by for a little taste!
We offer you and your family delectable country cooked meals to eat in our out of our cozy café or in the garden, during lunchtimes.
Telephone: 022 492 3626

Website: http://www.bistrosevendarling.com/
Bistro Seven - "This neat little bistro, housed in a lovely old cottage, is right on Darling's main street. There are tables and chairs in the small garden to take advantage of the passing parade. Inside, tables are laid with crisp, blue checked cloths and there is a cosy bar for a pre-dinner aperitif or for lingering afterwards. Cuisine is country comfort with great soups, steaks, crisp fresh salads, and the occasional nod to boerekos. Small but good wine list." - EAT OUT Magazine 2007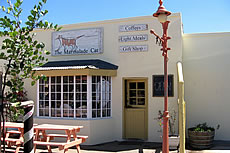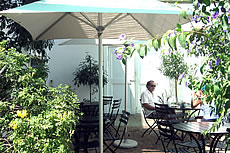 The Marmalade Cat - Being a unique and trendy hot spot for locals and tourists alike, the Marmalade Cat, is everything its names suggests! The small marmalade-coloured building is easy to spot on Darling's main road and as one walks past bougainvilleas to enter the yellow, white and blue polka-dotted shop, one is greeted by smiling faces, freshly baked scents and a kaleidoscope of gifts and collectibles individually selected by the owner, Sandi Collins.
The Marmalade Cat is the perfect place for a bustling atmosphere, freshly prepared, flavour-filled breakfasts, lunches, morning and afternoon teas. Specialties such as the fluffy bacon and feta omelets for breakfast, or the designer chicken pies will have you desperate to return for more! The Marmalade Cat is also open on Friday nights for their famous pizzas, which include a complementary salad to start and an atmosphere that is sure to have you dancing by the end of the night. The Marmalade Cat is also the perfect place for birthday or business functions, which must be booked in advance.
So with its flower and fountain filled courtyard, good-mood music, delicious food, treasured gifts and a real-life marmalade cat to top it all off, you're likely to have a spring in your step for the rest of the day.
Telephone: 022 492 2515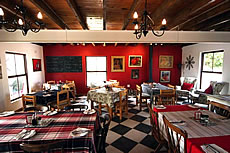 Briggs Barn - Come and enjoy country style cuisine in an intimate, comfortable yet stylish setting. Enjoy your delectable meal beside a cozy fireplace or the steeping sunlight in the rose filled garden. There is also a jungle gym for the little ones to play on. The country cuisine is generous and features the likes of French toast, Beer batter Fish or Slow Roasted Oxtail. The wine list supports mainly locally produced wine
Telephone: 022 492 2451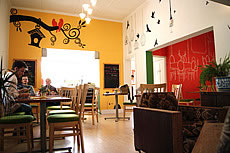 Chicory Cheese - Darling's new, chic restaurant, Chicory Cheese Café, is about feeling good, enjoying life and establishing a foundation for healthy eating.
Catering for the intolerant to the indulgent, its intuitive, seasonal menu means meals are freshly cooked, juices freshly squeezed, coffee freshly ground and the service refreshingly friendly.
Join Chicory Cheese Café in sharing the love of good food. A treat for your stomach and your soul.
Telephone: 072 852 6644
Café Mosaic is a unique South African mixture of the French Café de la Rue, the Dutch Coffee Bar, the German Strasse Kaffe and the English Pub: a family orientated rendezvous in the Main Road of Darling. Here visitors and newcomers can meet the locals and learn everything about Darling they need to know.
Coffee and cake, calamari and chips, lasagne and salads and home made pies are served with an assortment of beverages ranging from soft drinks to hard tack. A menu with light meals and snacks is available
This is the locals' watering hole after work, the place where rugby, soccer and cricket games are viewed and a safe venue where fathers and mothers can teach their offspring how to play pool. Business hours are from 9h00 in the morning till late at night.
Telephone: 022 492 2307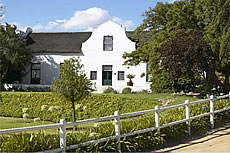 Hilda's Kitchen @ Groote Post Wine Estate - This restaurant is situated in the historic manor at Groote Post Wine Estate on the Darling Hills Road and serves modern country cuisine. Hilda's Kitchen was selected best new restaurant – West Coast '2004 Eat Out' restaurant awards. The perfect functions venue, ideally situated for weddings, conferences and parties.
Telephone: 022 492 2825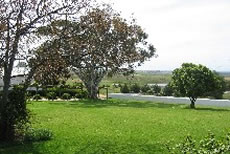 Cloof Wine Estate - Cloof produces intense, bold-flavoured wines from grapes grown under extreme conditions. Among its products are a Decanter 5 Star Award winner, a Champion Shiraz and numerous airline selections. The estate welcomes visitors for wine tasting (Monday to Saturday 10:00 to 16:00) and light lunches (Tuesday to Saturday 11:00 to 15:00). Details may be found on the Cloof website.
The estate also offers a superb venue for weddings and other functions.
Telephone: 022 492 2839
Website: www.cloof.co.za